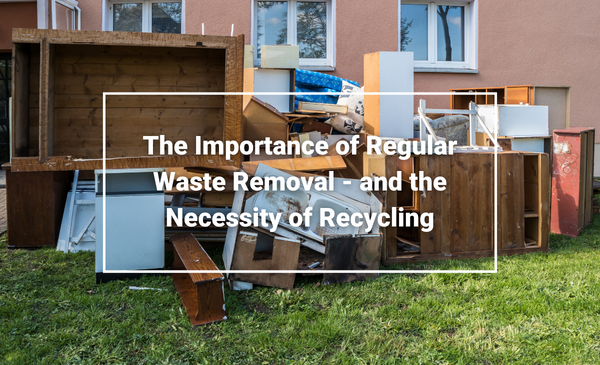 The Importance of Regular Waste Removal – and the Necessity of Recycling
December 27, 2022
Do You Need to Dispose of Old Appliances? Let the Professional Waste Removers Help You
January 7, 2023
We cannot get away from it. Everything we buy at our stores is packaged. And even if you purposefully look for products that are packed in a sustainable way, they are not so easy to find.
How can we change this?
Packaging is a necessity as it is the material used to protect a product after it is produced, while it is shipped, and until it lands up with the buyer. So once your product has been taken out of its packaging, what remains is basically waste. And this is the waste that lands up in our landfills, leading to the pollution of our land, water, and air. 
What Are Our Products Packaged In?
The most common packaging materials are plastic, paper and cardboard, aluminum, glass, and wood.
These are all recyclable materials, but even though the rate of recycling has increased, there are still many materials that are not recyclable or reusable. Recycling is a process that is expensive and requires specialised equipment, so this often discourages businesses from doing it. It is much cheaper to dump something in the landfill than taking it to recycling for processing. 
The product that you take off the shelf, pay for, and then, is more likely than not put into a plastic grocery bag, has a long history of being packed and dispatched, behind it. Beginning from when it is manufactured and then packed up in bulk for shipping, before being packed into the branded end product that you put in your trolley, there is a line of packaging that consumers are not even aware of.
What is the Impact of Packaging on our Environment?
The negative impact of packaging is when it reaches a landfill it begins to decompose. This process releases harmful greenhouse gases such as methane and carbon dioxide which have been shown to contribute to climate change.
The effect of leachate which is the toxic liquid that forms from landfill leakage, finds its way into waterways, and contaminates river water and ultimately the sea.
The harmful effects of plastic waste finding its way into rivers and eventually the sea, is well documented. It has a devastating impact on marine animals and birds. This ultimately has a detrimental effect on people whose livelihoods rely on the sea. 
The rising global temperatures affect the Poles, sea currents, and weather systems throughout the world. Wild life species are being negatively affected, as is our agricultural systems, and ultimately it will impact on each one of us.
What Are Steps We Can Take to Reduce our Contribution?
We need to take responsibility for our own actions and consciously try and reduce our contribution to the overflowing landfills and polluted waterways, and ultimately, to climate change. We need to insist on businesses using sustainable packaging materials throughout the life cycle of products. As more and more businesses come on board with this, the costs should drop as more sustainable packaging materials are developed.
Support those companies and stores that encourage you to bring your own packaging, such as sustainable bags and glass jars. There are more and more of these kind of zero-waste stores and outlets springing up. 
Shop at thrift shops where you can. Reusing or repurposing an item is a great way of contributing to a cleaner environment. 
Reducing your online shopping means less packaging waste. Remember to recycle the packaging materials that your items are delivered in.
Support your local farmers' markets and take your own bags as their goods aren't packaged. This will not only cut down on packaging waste, but also will support locally sourced products. This is ultimately more sustainable and will limit your carbon footprint.
Purchase products in sustainable packaging, i.e. packed in recyclable, or biodegradable packaging. 
Keep reusable bags with you wherever you go. This way you will cut down on how many plastic bags you collect.
Cut down on the amount of takeout's you order. Instead take your own container. Disposable hot drink containers are a huge contributor, as are single use plastic  bottles our water comes in. These are areas where we can make an effort to cut back.
Reuse the packaging that you receive your online shopping in. The boxes can be used for your own packing needs. Many online brands are encouraging customers to reuse their packaging materials.
Many retailers are consciously minimizing their packaging waste. Customers are demanding it as more of us want to see a drastic reduction in plastic packaging. There are innovative ways of packaging being used such as using natural materials for as a substitute for plastic packets, and where that is not feasible, using bioplastics, which are an eco-friendly, compostable plastic which can be recycled. 
There are also packets made by using poly bags made from hemp, bamboo, cassava root, and other sustainable raw materials. Innovation is essential if we are to realise the environmental goals that are essential to our survival.
Little Green Junk
We at Little Green Junk York PA are a professional waste removal company. We can assist you with the implementation of your waste management plan. We are licensed to remove all types of business and household waste and are committed to keeping our environment safe and healthy.
Our policy is to recycle where we can, and we only use the landfill as a last resort.
Please contact us when you need any waste removed. 
We will come at a time that suits you even if it is after hours or over a weekend. Just point out what you want us to remove, and once we have loaded it, we will leave the area clean. We know that sometimes you may need an item of rubbish removed immediately which is why we offer a same day junk removal service as well. 
We follow the strict rules that are in place with regard to disposing of any waste because it is for the benefit of all our citizens. We are committed to keeping our environment safe not only for us, but for future generations.  
Call us at the following number: 717 988 0997. 
We look forward to hearing from you.
Email: inquiries@littlegreenjunk.com